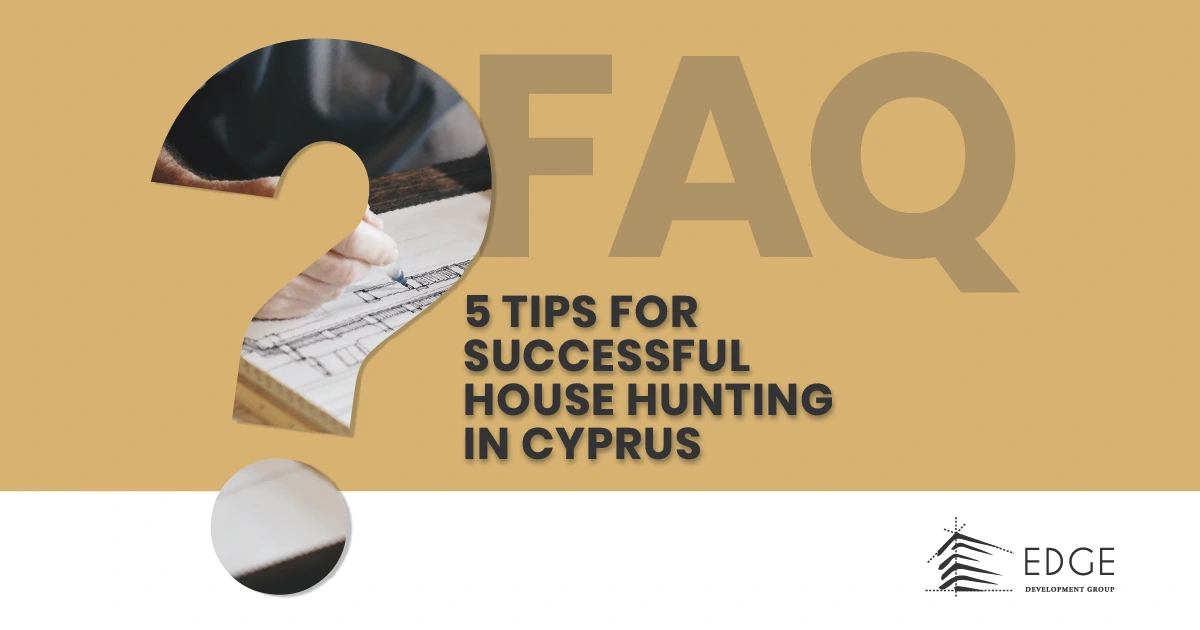 5 Tips for Successful House Hunting in Cyprus
Buying a house is an important milestone in many people's lives. This is because it usually involves a significant investment, also because your personal property is in many ways a direct reflection of your lifestyle and personality. To make sure your house hunting effort in Cyprus is both enjoyable and productive, here are 5 basic tips to help you find a home that will serve you well.
1. For own use or rental?
In the broadest terms, most buyers are looking for a property that will serve one of two purposes: either for the buyer's own use – whether for permanent residence or regular holidays, or as an investment that will yield rental income. Your approach should be different in each case. When looking for a home for yourself, your criteria should reflect your personal preferences – from location and immediate surroundings to interior layout and finishing materials.
2. Set your priorities
If you're looking for a home or second home for yourself, be prepared to accept the fact that it is very difficult to find the 100% perfect property. The ideal design may be in a less favourable location, or the ultimate property may be over budget. To avoid experiencing regular dilemmas every time you go to view a property, it pays to list all your wants and needs, but also to group them in two categories: 'requirements', which are absolute must-haves, and 'wishes' that will help you choose between two or more properties that satisfy the fundamental requirements – usually the number of bedrooms and bathrooms, approximate location, nearby amenities, and budget. With a list of this kind in hand, you will be in a better position to shortlist your favourites before making a final decision.
3. VAT matters
VAT rates vary from country to country and are not negligible. In Cyprus, the current rate of VAT on property is 5% and the property can be used for personal use only. The other current rate is 19% and it goes for buyers who already owned a property in Cyprus and wants to buy another one or for buyers who want to generate rental income through rentals.
4. Keeping track
For practical reasons, especially if you are not residing in Cyprus already, the property search often takes place in spurts and over several weeks or months. By keeping track of every property, you view and recording particular features, special advantages/disadvantage or other details, you can avoid missing an opportunity or forgetting an important aspect that could eventually help you make the right decision in favour of one or the other home.
5. Consult a reliable developer
Naturally, you can drive around the island and look out for new construction projects or signs on houses that are on the market. That, however, will make the search process very slow, and will also limit the options, as many of the best properties are sold off-plan, while resale properties are often not even advertised. By consulting an experienced development company that is an active player in the market as well as in the local society, you can minimize the search period and make your house hunting experience more efficient by viewing only properties that match the requirements you share with the estate agent. The result is an exciting and hassle-free house hunting experience combined with insider information and advice that can be extremely valuable.

At Edge Development we pride ourselves on understanding clients' needs and tailoring our search to the clients' requirements offering a variety of properties in Cyprus.