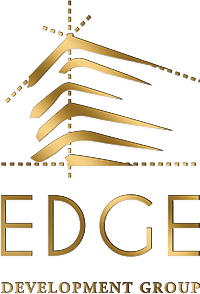 Edge Development Group is a new company operating in the construction and development sector in Larnaca. The company offers diverse and innovative property types and styles, each an exemplar of superior living, all built to the highest standards at prime locations in Larnaca.
Our commitment to provide absolute customer satisfaction is constant. At every stage of the process, from designing and planning to the final finishing touches, while always considering the emotional and practical priorities of the residents.
Edge Group's promise is to provide value to its clients in terms of quality, design, service, support and investment returns. Through a unified and focused strategy, we continually engage in initiatives that enrich and strengthen the community. Significant consideration is given to the environment and long-term sustainability when developing a site, ensuring Edge Development Group residents enjoy environmentally friendly/clean/natural surroundings.
Park Avenue is the first development / construction project that Edge Development Group has undertaken in Larnaca.
It is a fresh and exclusive residential investment opportunity situated in a prime location in the centre of Larnaca. This fusion of luxury design apartments and surrounding natural beauty is in close proximity to many amenities, making it the ideal opportunity to invest in a prime and future-proof real estate, with high resale and rental value.
Park Avenue comprises of 21 two-bedroom and 3 three-bedroom apartments on ten floors. Each apartment has its own smart covered parking space.
The development is characterized by its extravagant architectural design and its breath-taking panoramic views of Sea and the Salt Lake.
Why

Park Avenue is a
great investment opportunity?
Areas like Larnaca which have a housing stock shortage and a growing professional population, are a fantastic place to invest in a buy-to-let property.
Larnaca is the next big thing in Cyprus as more and more foreign investments are coming in the city. The future development plans across the coastal area are promising for the future.
Park Avenue is a great investment opportunity as is combines luxury, modern design and prime location. It is an exceptional option and opportunity for investors who seek to obtain high returns on their investments.
"Larnaca is a rapidly transforming city with major regeneration activity taking place, in both seaside and the city center. The city is now firmly at the top of many investor's hit lists and looks set to outperform other regional cities in terms of price and rental growth."
Contact one of our experienced
property consultants today:
85 Spyrou Kyprianou Street, Eleneio Megaro, 1st Floor, Flat/Office 101, 6051, Larnaca, Cyprus
Office Hours: 09:00 – 17:30
Register your interest to receive a brochure
and more information on Edge